2019 was an incredible year that left many submissives trembling, due to the immensely beautiful, powerful and creative clips our FemDom Artist community has created. Indulge, reminisce, and get in touch with your submissive side more than ever with our top selling clips from 2019!
WARNING: highly addictive! Reach the most blissful depths of submission with this psycho-sexual masterpiece of a session! Feel me drag you DEEP into your subconscious, loading up your mind with dopamine, leaving you completely ADDICTED to this sensation of euphoric mind-washing! See if you can resist my jerk off instructions while I have you under my spell…
Wearing nothing but a sexy red white and blue push up bikini I walk up to you and start to chat. Just when we start flirting your boring old wife comes over and says it's time to leave. I persuade you both to stay for just a bit longer and before you know I have your wife fetching us drinks while we talk. It's not long before your wife is furious and insists you leave with her now. But I have other plans for you and leaving is not one of them. 😉
As my slave, there are different ways I call upon you to serve. Sometimes it's challenging, and sometimes it's very, very easy. Like today. This task plunge will you right into the pure bliss of sub space, honing your obedience skills, and deepening your ever growing devotion. But that's not really the point. The most important thing is that your obedience in this task will give me genuine pleasure.
Has it been a long day slave? Do you need to unwind? Goddess has exactly what you need. It's time to worship and let all your cares float away. I take up residence in your mind. In this exact moment fix all the broken pieces. Worries, cares, emotions – gone. All you need is right here – right now. Worship.
by Madam Violet
Probably My most powerful mesmerising and orgasmic MP4 to date. An expert intensive blend of layered voice tracks and visual effects, clinical techniques and of course My entrancing beauty, shiny red lips and red nails. Nearly 40 minutes of COMPLETE mental and sexual domination culminating in an EXPLOSIVE build up leading to an unstoppable ERUPTION of BLISS.
#5 – The Experiment: Brainwash Mesmerize 
Concentrate on my soft tones as an equaliser moves around the screen creating a visual of my voice, follow it into a special mental arena where I begin to reprogram you in a way that will bring domination into your daily existence in a way that is so subtle that those around you won't notice, but so powerful it will drive you wild with submissive desire.
#4 – Porn Destroyed You (& You Love It)
Sure, you hate yourself. But as soon as those feelings of self hatred infiltrate your mind, you have the ability to wipe those thoughts clean when you turn on your favorite porn and jerk. You don't have to think when you're stroking; when you're gooning; when you're edging. In fact, the more you goon, the dumber you get, and it makes your life more bearable.
A Mesmerize clip unlike any other, you will be reprogrammed down to your core. Watch how easy I take over your brain and access the coding inside your perverted mind. Fall hard while I initiate total Power exchange. My Poisoned boy, watch my big juicy red lips, stare deep inside my perfectly blue eyes and jerk hard while I rewire your brain.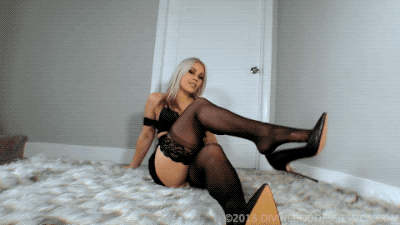 My gentle words sink you down into a semi-coherent ****. You sink like a rock. The only parts of you that can move are the parts I command to move. Like a puppet on strings you jerk your cock, you nod your head. I jerk the string and the body part moves. How I say. When I say. Whatever I want, you do it.
And the #1 top selling clip of 2019 goes to….
 It's incredibly important you are able to go DEEP down for Me even when your eyes are open. Hypnosis is a skill, a creative talent that one can hone and perfect. Together we will ensure that you are a good boy, an obedient trance slut, an eager Madam Violet zombie puppet that SLIDES down whenever select words DRIP from My RED lips.
Be a good boy and congratulate these hot, powerful Dommes with your submission.
And, get ready…

2020 is the year you will become even more submissive than ever before!
*Please note that this list was determined using an algorithm that took into account the number of sales the clip received as well as the income total the clip received.